Meet the Team at Finger Lakes Dental at Victor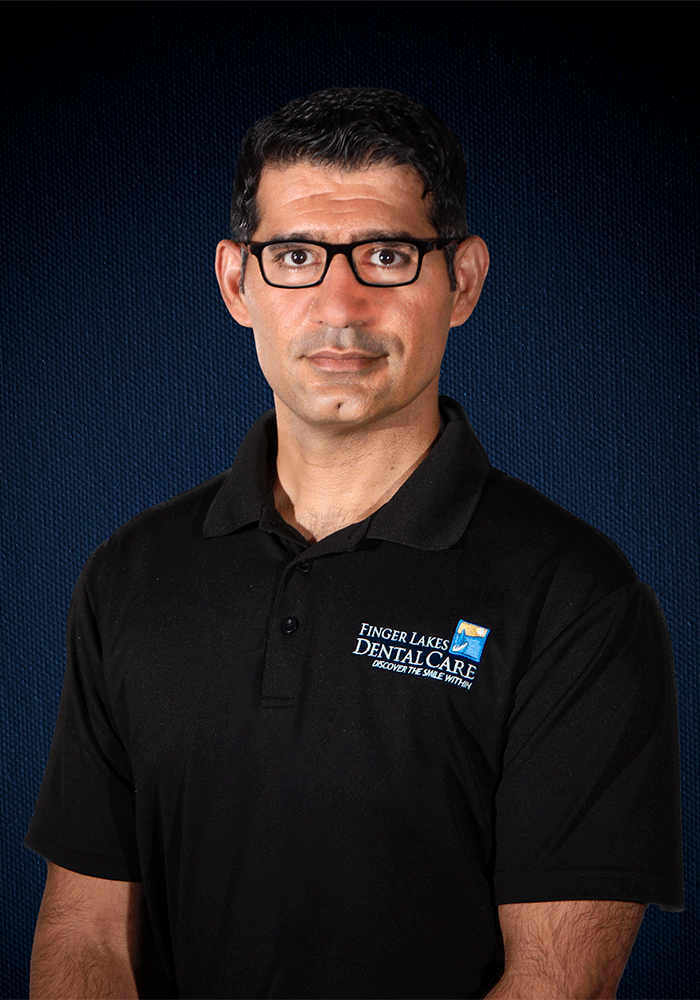 Dr. Ali Ghorbani Gazar
DDS
Dr. Ali Ghorbani Gazar received his DDS from the University of Toronto Faculty of Dentistry. He then moved to Rochester for post-doctoral training and completed a two-year general practice residency at the University of Rochester Medical Center where he gained extensive training in various aspects of general dentistry.
Dr. Ali Sullivan
DDS
Dr. Ali Sullivan grew up in Central New York before her dental training and residency. Dr. Ali focuses on restorative and pediatric dentistry.
Ryanne Sak
Office Manager
Ryanne has a broad knowledge of many different skills (over 18 years customer experience). She joined the Finger Lakes Dental Care team in October 2022 at our Victor office as office manager. Ryanne has a naturally positive attitude and warm demeanor and is excited to cultivate strong relationships with staff and the Victor community.
Outside of work, Ryanne relishes the quiet country life with her animals and her highschool sweetheart husband she married in 2012. She enjoys making anything and everything whether it be a painting, crocheting a blanket or making homemade salsa with veggies from her backyard garden.
Aleta Covey
Registered Dental Hygienist
Aleta joined our team in September 2019. She graduated with a Bachelor's degree in Healthcare Administration from The College at Brockport in 2015, then went on to Dental Hygiene School at Monroe Community College. Aleta began practicing dental hygiene in 2016 and is certified in Anesthesia and Nitrous Oxide administration. She has enthusiasm for her profession that is unwavering. She is committed to her patients, gentle and kind.
Outside of work Aleta enjoys baking, spending time with her family and her dog Ellie.
Heather Bertolone
Registered Dental Hygienist
Heather joined Finger Lakes Dental Care in May 2021. She graduated from the Monroe Community College Dental Hygiene program in 2017 and began practicing full time in general dentistry. Her love for the profession and her patients is beyond measure. She is very excited to be a part of the FLDC team!
In her free time, Heather enjoys reading, being outdoors with her two Pomeranians, and spending time with friends and family.
Dayana Cruz-Echemenia
Dental Assistant
Dayana has been working with Finger Lakes Dental Care since January 2021. She has been in the dental field for 14 years. Dayana graduated from the University of Medical Science of Sancti Spiritus in Cuba, receiving her Doctorate in Dentistry. She practiced as a general dentist in Cuba and Venezuela before moving to the USA. Soon after arriving, she got to work studying for the National Dental Boards so she can practice dentistry in America. She's enthusiastic about her job and loves to make people smile.
Outside of work, Dayana enjoys spending time with her fiancé, son, and her cats, Simba, Stella, and Rocco. She loves to cook, travel, and experience new things.
Teri Howard
Dental Assistant
Teri brought her 30+ years of experience to Finger Lakes Dental when she joined the team in 2017. Teri has been trained in many aspects of dentistry including cosmetic dentistry, oral surgery, sedation dentistry & orthodontics. She continues to take many hours of continuing education & is CPR certified.
When she isn't working, Teri enjoys spending time with her husband, Jeff and their blended family of 7 children & grand babies! Teri & Jeff also enjoy working out, hiking, walking their 2 dogs and spending time in their Florida home.
Diane Saxton
Registered Dental Assistant
Diane brings a wealth of experience to the field of dentistry, with an impressive 35-year career dedicated to delivering exceptional dental care. She is not only a seasoned professional but also a loving mother of two, a grandmother of four, and a devoted pet owner.
When she's not in the dental office, Diane finds solace in the embrace of nature. She loves spending as much time outside as possible when the weather is nice; walking, swimming, grilling and just enjoying the sun and warmth. Her passion for spending quality time with her grandchildren is matched only by her enthusiasm for hosting them in her home for refreshing swims. In the company of her two beloved Rottweilers, she enjoys the charming antics that these pets bring into her life. Diane also cherishes moments with her kitty, who never misses the opportunity to curl up on her lap.
During the winter months, Diane opts for a cozy retreat with her pets, cuddling up to her favorite TV shows. Her commitment to a balanced life that embraces both her professional dedication and personal joys makes her a remarkable individual in both her dental practice and personal life.