Meet the Team at Finger Lakes Dental at Henrietta
Dr. Ali Sullivan
DDS
Dr. Ali Sullivan grew up in Central New York before her dental training and residency. Dr. Ali focuses on restorative and pediatric dentistry.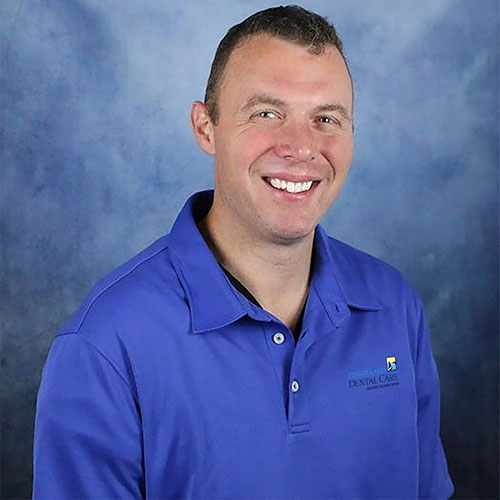 Dr. Andrew Bracci
DMD
Dr. Andrew Bracci is our oral and maxillofacial surgeon at Finger Lakes Dental who strives to provide superior patient care and change how people feel about visiting the dentist.
Danielle Mancuso
Office Manager
Danielle started her professional career as a graduate of Bryant & Stratton with her A.O.S. in business management. She later switched career goals and went on to graduate from Wayne Finger Lakes Boces and became a licensed practical nurse. She worked as a private duty nurse for over 10 years, taking care of her special needs niece. As her niece became more independent and in less need of private care, Danielle made a decision to further her knowledge in another field of care by joining Finger Lakes Dental Care. She displayed excitement and enthusiasm in her role in client relations and a willingness to learn all she can about the world of dentistry. After 9 months Danielle was promoted to Office Manager of the West Henrietta office. Danielle loves spending her free time with her daughter, Adelina and thoroughly enjoys spending time with her family. She loves to continue growing her knowledge in gardening and you find her happiest in the fall weather. Danielle is an avid Yankees fan and she loves all genres of books, movies, and music.
Chelsea Esley
Registered Dental Hygienist
Chelsea started her professional career as a graduate from the Monroe Community College Dental Hygiene program in 2021. Chelsea has also completed the Dental Assisting program at MCC. She has since been working as a full-time hygienist and joined the Finger Lakes Dental Care team in April 2023. She's excited to continue to grow in her career and is committed to providing quality care to her patients. In her free time she enjoys spending time with her family and friends, cooking, and taking care of her pets Molly and Milo!
Jessica Herman
Registered Dental Hygienist
Jessica was born and raised in the Rochester area. She attended State College of Florida where she completed her first year of academics. She then transferred to Monroe Community College where she graduated in 2011 with her AAS degree in Dental Hygiene. With 8 years of dental experience, Jessica began working with Finger Lakes Dental Care as a part-time hygienist in January of 2019. Within the first two months, she transitioned to full-time to accommodate the growth of our West Henrietta office. Jessica is also certified in advanced CPR/AED and licensed in dental anesthesia and nitrous oxide in New York State. She is also familiar with accreditation in sterilization and infection control certified. Jessica enjoys educating patients and changing their dental experience so they are excited to come to their future hygiene visits.
When Jessica is not in the office, she enjoys spending time with her husband, Brad, and their two little boys, Kaiden and Sebastian. She also enjoys traveling to Florida to visit her family.
Kristine Zambrana
Registered Dental Hygienist
Kristine graduated with her Associate's Degree for Dental Hygiene from Monroe Community College in 2017. She has worked as a full time hygienist since then. She later obtained licensure in administering local anesthetic and nitrous oxide. Kristine strives to provide a positive dental experience for everyone, especially those who have dental anxiety.
In her free time Kristine enjoys singing, listening to music, playing viola, trying new things, trying all kinds of foods, and gathering with her friends. She is a lover of all animals, but has a soft spot for her two cats, Hank and Tony!
Tessa Mitchell
Certified Dental Assistant
Tessa is from Henrietta, NY and works in our Canandaigua office as a dental assistant and sterilization tech. Tessa went to school at Gannon University and received a bachelors and Master's degree in Science and played division 2 lacrosse. In her free time Tessa bartends and plays with her dog Lucy!
Clare Camblin
Dental Assistant
Cristal Rodriguez
Dental Assistant
Kristy Bennigsohn
Client Relations
Kristy started her professional career at Heritage Christian Services where she worked with adults with developmental disabilities for just over 12 years. She wanted to continue her work in the field of patient care and work with children with developmental disabilities at The School of Holy Childhood where she was a teacher's aid and lifeguard as well as working in Respite care after hours.
Kristy recently decided to change her career and became a Greetings Coordinator at Finger Lakes Dental Care of West Henrietta and is excited to build a knowledge base of the dental field.
In Kristy's free time she loves spending it with her daughter as well as her whole family. She enjoys going for long walks and taking pictures of nature's beauty.