Meet the Team at Finger Lakes Dental Operations Team
Amy Ells
Director of Operations
Amy came to our office after completing her degree in Communications with a concentration in Public Relations and a minor in Marketing from SUNY Fredonia. She has been a part of the Finger Lakes Dental Care team since 2008. You may recognize Amy from her work at the Front Desk in our Canandaigua office. Now she travels between all of our offices to help support our growing team. When Amy isn't in the office you can find her crafting, checking out a local brewery or spending time with her family.
Jennifer Morello
Director of Finance
Jennifer has held many positions in the field of dentistry and brings all of that knowledge to her role at Finger Lakes Dental Care. Jen has worked for one the largest dental supply companies as a field sales consultant. She also worked as a sales representative for dental software. Then, in 1997, she graduated as a dental hygienist. Today, Jennifer stays busy as Director of Finance.
In her spare time she loves to travel to new places, near and far. When at home, you can find her at CrossFit killing it in the group exercise classes. Growing up with 2 Italian Grandmas, she learned to cook and bake from the best and enjoys making old favorites as well as trying new recipes. Jen has lived in CDGA since 2009 and currently lives with her significant other, TJ, and two crazy and very active Weimaraner dogs, Bo and Max.
Jessica Schreader
Human Resources
Jessica joined Finger Lakes Dental Care in August of 2020 as our Human Resource Manager. She has an associate's degree in business administration from FLCC and has 16 years of human resource experience. She looks forward to helping our employees be the best they can be for our patients. Jessica and her husband, Kevin, live in Clifton Springs with their three children, Liam, Ella and Adeline. She enjoys being with her family, especially Sunday dinners at her parent's house on Seneca Lake. She also enjoys camping with family and friends, relaxing by the lake, cooking, eating, and attending concerts.
Shannon Lutz
Regional Manager
Shannon joined our team in 2021 as our first regional manager! She brought with her over 15 years of experience in the dental field and is able to use that knowledge to make sure your experience in our office is exceptional! She is a graduate of Keuka College with a degree in Organizational Management. On the weekends Shannon likes to spend her time with friends, family and her two adorable dogs, Tessie and Luna. She loves going to concerts, visiting local cideries and exploring places she has never been!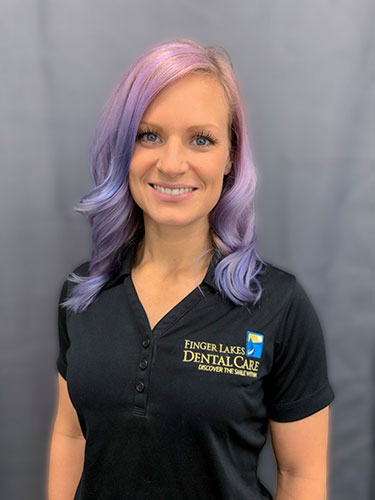 Ann Hayes
Contact Center Lead
Ann came to our office with many years of service industry experience. She completed her Cosmetology degree, which she actively pursued for 16 years. Ann has the compassion and drive to help others. She can help get you scheduled in any of our locations and answer any questions you may have. Ann is a snack enthusiast who enjoys working out and reading when not in the office.
Rachel Burgess
Contact Center
Rachel is a 2015 graduate of Niagara University where she studied criminology and sociology. She assists with scheduling appointments and answering patients' questions. She brings many years of experience in customer service to the table and enjoys helping people in any way she can. When she is not working, Rachel enjoys riding horses and leases at a farm in Fairport. She also enjoys hiking with her husband, Tom, and their golden retriever mix, Zarin. She and her husband welcomed their daughter, Lillian, in February 2021.
Kendall Main
Contact Center
Kendall graduated from University at Buffalo with a degree in communication. She joined the Finger Lakes Dental team in March of 2021 with over 10 years of customer service experience. She is committed to providing the best customer service possible and ensuring each patient is treated with compassion and respect. Kendall is looking forward to learning and growing with the FLDC team! In her free time, Kendall enjoys spending time with family, especially her husband and German Shepard mix, Luna. She also enjoys skiing, wine tours, camping and trying new things.
Caitlin Sczucs
Contact Center
Caitlin has been in the customer service industry for over 10 years. She obtained her CNA in 2016 while working at a long-term care facility. Caitlin is now part of our call center team where her compassion for others shines through. When Caitlin is not in the office, she enjoys spending time with her family, including her three boys, her boyfriend, Jake, and their two English bulldogs. She also enjoys reading psychology and self-help books.
Barbara Owren
Insurance Lead
Barbara joined our practice with over six years in the dental field and over 30 years of customer service experience. Barb is a graduate of Finger Lakes Community College with a degree in accounting. Born and raised in Canandaigua, Barb and her husband, Jeff, spent 11 years in Atlanta, GA before returning to the area with their daughter, Mikayla, and son, Austin.
Karen Mahar
Insurance Coordinator
Karen joined the Finger Lakes Dental Care team in October 2022 as one of our insurance coordinators. Karen is a graduate of Canisius College of Buffalo, NY with a degree in communication studies. Karen was born and raised in Geneva, NY and lives there with her husband Todd, two girls Molly and Maggie and Australian Shepard Apollo. She enjoys spending time with her family, working in her family's restaurants and camping with great friends.
Liz Winiarczyk
Insurance Coordinator
Liz joined Finger Lakes Dental as an insurance coordinator in December 2021. Prior to working at FLDC, she worked at a local hospital in the insurance/credentialing department. She also attended FLCC and Finger Lakes Health College of Nursing to pursue an Associates in nursing. Outside of work, Liz looks after multiple family-owned Air Bnb locations in the heart of the Finger Lakes. Liz and her husband share a fur baby, an adorable mini golden doodle, Charlie. In their free time, they enjoy traveling, trying new restaurants, pickleball, any outdoor activity, and good times with family and friends.
Nate Eveland
Accounting Coordinator
Nate joined the Finger Lakes Dental Care team in 2019 with over 15 years of customer service experience. In 2020, he became one of our insurance coordinators. He has an associate's degree in Business Administration from Finger Lakes Community College. Nate enjoys video games, movies, music, playing sports, watching sports and going on adventures with his family.
Katie Prunoske
Insurance Coordinator
Katie is a 2020 graduate of Finger Lakes Community College where she graduated with her Associate's in Business Administration. Katie joined Finger Lakes Dental Care in April 2022 in the call center's client relations team and was excited to join the insurance team. She brings years of experience in customer service and her friendly personality. When she is not working, Katie enjoys watching docuseries about true crime, checking out the local wineries and going to Keuka Lake.
Sally Finocchario
Marketing Coordinator
Sally has a strong background in art and design. She earned her associate's degree in Graphic Arts & Advertising Tech from Finger Lakes Community College, bachelor's degree in Art Education from Nazareth College and her master's degree in Education from Walden University. Sally is a NYS certified k-12 art educator and taught for fifteen years as an art and design instructor at the high school level. After raising her three children, Sally resigned from teaching and returned to the private sector as a creative. As a longtime happy patient of Finger Lakes Dental Care, she jumped at the opportunity to join the team as their Marketing Coordinator in March, 2019. Outside of work Sally enjoys cooking, practicing yoga and spending time with her family and friends.
Erica Nabinger
Content Creator
Erica joined Finger Lakes Dental Care in September 2020 as an Insurance Coordinator but her passion for creating led her to our Marketing Team. Erica has a Bachelor's Degree in Media Communications from SUNY Old Westbury. She interned with Walt Disney World's MGM Studios in Orlando and Columbia Records at SONY in Manhattan. Erica comes to us with over 20 years of experience in Guest Relations including five years of management at a Salon and Spa in Canandaigua. Erica is obsessed with her fur baby Nori (a Yorkie-pooh) and likes to spend her free time catching up with friends & family.